http://www.quantummedia.com/event/media-guru-sree-sreenivasan | Printed on: February 23, 2018
Event
Media Guru: Sree Sreenivasan
Chief Digital Officer, Metropolitan Museum of Art
September 17, 2014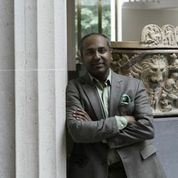 Sree Sreenivasan, Chief Digital Officer, at the Metropolitan Museum of Art was the kick-off media guru on September 17 for the 2014/2015 season.
Sreenivasan (@sree) is actually the museum's very first person with that title. "At the Met," he says, "I lead a world-class team on topics I love: digital, social, mobile, video, apps and much more." Sreenivasan joined the Met after spending 20 years at Columbia University as a member of the faculty of the Columbia Journalism School and a year as the university's first Chief Digital Officer. In 2009, he was named one of AdAge's 25 media people to follow on Twitter and in 2010 was named one of Poynter's 35 most influential people in social media.
Find him on Twitter and on Instagram as well as on the web.