http://www.quantummedia.com/event/media-guru-roger-faxon | Printed on: February 23, 2018
Event
Media Guru Roger Faxon
Chair and CEO EMI Music Publishing
April 29, 2010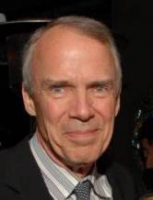 Veteran entertainment exec Faxon has worked in TV, film and auction. Managing music since 1984, talked about his enviable job of running EMI's 1.3 million song catalog and the grave challenges currently facing the industry.
Roger Faxon is chairman and CEO of EMI Music Publishing and a member of the board of EMI's parent company Maltby Capital (also owner of EMI Music.) He was named co-CEO in 2006 before taking up his current role as chairman and CEO in March 2007.
Faxon joined EMI in 1994 as Senior Vice President, Worldwide Business Development and Strategy where he directed the company's global planning process and oversaw the acquisition of related businesses as well as the company's portfolio of media investments. In April 1999, Faxon assumed the post of Executive Vice President and Chief Financial Officer for EMI Music Publishing before being appointed CFO of EMI Group in early 2002. In January 2005 he returned to the music publishing side of EMI when he was named President and COO of EMI Music Publishing
Throughout his career, Faxon mostly worked in entertainment except for two stints: in the 1990s at Sotheby's, he joined as COO of its North and South American operations, and as CEO of London-based Sotheby's Europe. Early in his career, Faxon worked for the US government including directing the subcommittee on Housing and Community Development in the US House of Representatives.
Before EMI, Faxon worked in film and TV for LUCASFILM as COO, for Tri-Star and Columbia Pictures in marketing, distribution, finance and business affairs, and he was founding partner of the Mount Company (producers of such movies as Frantic, Bull Durham and Tequila Sunrise.)
Faxon received a BA in International Relations & Political Economy from the Johns Hopkins University in Baltimore.