http://www.quantummedia.com/event/media-guru-mike-perlis | Printed on: February 23, 2018
Event
Media Guru: Mike Perlis
President & CEO, Forbes Media
June 12, 2013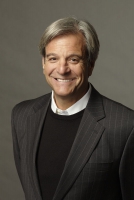 Join us when Mike Perlis talks about his long and varied career in digital and print media, his stint as a VC, and his ideas about the future of content and Forbes as the June Media Guru.
Perlis is a media industry CEO with over 25 years' experience managing a wide range of content and multimedia brands. He joined Forbes after a decade at SoftBank Capital (where he served as a General Partner), and became its first CEO not named Forbes since it was founded in 1917.
In a recent interview with AdAge, Perlis said:
" Forbes.com started 15 years ago and one of the things that we did that really allowed us as a legacy business to become a digital player was that at the time we separated Forbes.com and the magazine completely. We set up a completely independent, highly entrepreneurial, and performance driven .com team in a separate building. This allowed us not to make all the bargains and all the deals and all the half way steps you have to take to take a traditional media company into the digital age…. Just as it was right to separate the assets it was right to put them back together a couple of years ago and now they feed off one another."
Before joining SoftBank, Perlis served as President and CEO of Ziff-Davis Publishing until its sale in 2000. Earlier in his career, Perlis served as Publisher of GQ, President of the Playboy Publishing Group, Publisher of Runner's World and Men's Health, and Chairman and CEO of IDG Peterborough. He began his career in media as the co-founder of New England Publications in Camden, Maine.
Quantum Principal, Erica Gruen, will moderate this event.