http://www.quantummedia.com/event/media-guru-breakfast-craig-newmark | Printed on: February 23, 2018
Event
Media Guru Breakfast: Craig Newmark
Founder of Craigslist
November 4, 2009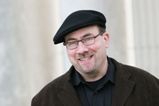 Craig Newmark is best known as the founder and an active customer service rep of the San Francisco-based Craigslist. Craigslist is a platform where people can help one another with basic needs, like housing and jobs. The site has a culture of trust, based on shared values like "treat people like you want to be treated." Craigslist's philosophy is to let the on-line community participants play an active role in policing the information that is shared on the list, and to make classifieds and personal ads free to its community members.
Craig used an e-mail list as a way to share information with his friends in San Francisco starting in early 1995, and launched the first community site for San Francisco late that year. As of April, 2009, Craigslist was receiving more than 22 billion page views per month, and had community websites in over 570 cities with over 50 million unique community members worldwide.
Craig attended college at Case Western Reserve University where he originally wanted to be a physicist, before switching to computers, which resulted in a Bachelor of Science degree in Computer Science in 1975. Craig continued his education at Case Western, receiving his Masters of Science in Computer Science in 1977. His thesis was entitled "Fundamental Models of Computer Systems and Their Relationship to Information Security."
In 1976, Craig started his business career with IBM and spent nearly 17 years there until moving on to working in programming for companies such as Charles Schwab, Bank of America, and various other consulting firms. In those days he was fluent in Java, Perl, MySQL, and HTML.
Craig is a vocal advocate of working with other people who use the Internet to scale up to large numbers, and ways that everyone can pitch in with a few dollars to improve society like DonorsChoose.org, microfinance in the West Bank with KIVA.org or Lendforpeace.org.
Craig also believes in using the net to support veterans' rights (through such groups as Iraq and Afghanistan Veterans of America, IAVA.org) and for public service, including such groups as the Sunlight Foundation, the Federal Web Managers Council, and the Consumers Union. Newmark continues working with various offices of the government, is an active practitioner in social media and advises groups on use of social media. Craig recently joined the board of Our Good Works, as a founding member of the allforgood.org which supports President Obama's summer of service initiative through serve.gov.
Craig resides in San Francisco's Cole Valley. Between bird watching and testing out new technology, he remains a critical part of Craigslist's customer service, mostly dealing with spammers and scammers. He is an avid fan of science fiction and actually enjoys TV. "He needs to get out more."
You can see what Craig is up to on his blog at cnewmark.com and he is active in sharing his "Tweets" on twitter.com/craignewmark.