http://www.quantummedia.com/event/media-disruptors-lockhart-steele-and-alexis-juneja | Printed on: February 23, 2018
Event
Media Disruptors Lockhart Steele and Alexis Juneja
Founders of Curbed.com
April 16, 2012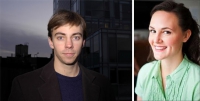 Lock Steele and Alexis Juneja founded the cool and compelling New York City-based Curbed Network in 2004. The blog-turned media company publishes content that they hope "tells the stories of the cities it covers from the pavement on up." Curbed Network's flag ship site—ny.curbed.com – has been described by the New York Times as a "prime purveyor of New York real estate porn: closing prices, zoning scuttlebutt, developers' delays, digital pictures taken at open houses." Along with its three other sites – Eater.com (restaurants and night life,) Racked.com (local shopping) and gridskipper.com (for travelers)—the network claims more than 2 million unique visitors, and enviable demographics – more than 85% college grads, 77% under 44 years of age and very high incomes. At the end of 2011, the company launched national versions of Curbed and Eater.
The Curbed Network has gotten lots of publicity and positive reviews for its content. They say they are profitable, even though they compete in fields that are filled with many more established media companies (city magazines, newspapers and local TV ) in these content areas, not to mention the explosion of daily deal businesses and start up commentators. Find out from the founders how they have succeeded so far, how they have integrated the use of social media and email to increase their exposure, about the difficulties of scaling local sites, and how they intend to stay successful.
Lockhart Steele is President of Curbed.com LLC. Prior to founding Curbed in 2004, Steele served as the editorial director of New York-based Gawker Media.
Alexis Juneja is the Vice President of Strategic Development of Curbed.com LLC. Juneja has been involved in every stage of company development; she now focuses on strategic partnerships and e-commerce initiatives. Before joining Curbed full-time, she worked in investment and nonprofit management.