http://www.quantummedia.com/event/media-disruptor-todd-krizelman-mediaradar-ceo-and-co-founder | Printed on: February 23, 2018
Event
Media Disruptor: Todd Krizelman, MediaRadar CEO and Co-founder
June 6, 2015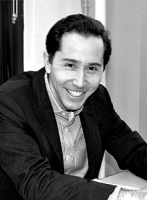 Krizelman, who co-founded MediaRadar, the SaaS big data and analytics firm that revolutionized the ad selling process, will talk on the evening of May 6 about the enormous challenges for the media who sell ad inventory and for the advertisers who buy it. The company, with 400 employees and more than $20 million in annual revenue is disruptive to traditional research firms since historically, most research is passive; MediaRadar does collect and create its own research, but packages it extensively, so it's specifically made for ad sales professionals. The most basic annual subscription per seat costs clients $27,000.
Before MediaRadar, from 2003 through 2006, Krizelman worked for Bertelsmann in publishing, working in Barcelona and New York. He also served as cofounder and CEO of theglobe.com, from 1994 to 2001. He led the company from inception to taking it public on NASDAQ. Theglobe.com hosted an Internet community of 20 million monthly users and published a collection of six video game magazine and websites.
Quantum's Brian O'Leary is the moderator for this event.