http://www.quantummedia.com/event/media-disruptor-betsy-morgan | Printed on: February 23, 2018
Event
Media Disruptor: Betsy Morgan
President, The Blaze
April 10, 2014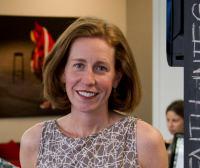 Veteran news executive, Betsy L. Morgan, will discuss innovative strategy, growth potential and challenges as the President and Chief Strategy Officer of TheBlaze, the multimedia news and information 24/7 network launched by Glenn Beck. The network is available online, through a subscriber based IP-delivered network, and on traditional cable/satellite. This event will be on the record.
TheBlaze although the exclusive provider of Glenn Beck's daily television broadcast, also offers a full slate of other news and opinion shows, late night comedy and more family friendly programming. TheBlaze's mission statement says that as a company they "strive to do as Jefferson said: Question with boldness, hold to the truth, and speak without fear." And also that "We are not interested in left and right. We seek answers to right and wrong."
Morgan joined TheBlaze in 2011 after serving as the CEO of The Huffington Post. The Huffington Post was successfully sold to Aol in 2011. While at The Huffington Post, Morgan led the award-winning site to rapid audience and revenue growth. She joined HuffPost after ten years at CBS where she was Senior Vice President for CBS Interactive and the General Manager of CBSNews.com. Under Morgan's leadership, CBSNews.com's excellence was recognized with several prestigious industry awards. She began her career at CBS as the head of the CBS Television Network's Strategic Management Group alongside the chairman and CEO of CBS.
In a recent interview Morgan explained why she decided to leave CBS . "I saw that journalism was changing. New brands were emerging, and they were highly relevant to the audiences they reached because they were unapologetic about taking a clear stand on things. The HuffPo was one of the first news organizations to put a stake in the ground by saying, 'This is what we believe. We can have a dialogue about it, but we're not going to debate the merits of global warming.'  The audience craved that kind of voice, and they responded to it—but the mainstream media wasn't delivering it."
Morgan graduated with a BA in Political Science and Economics from Colby College, where she currently serves on the Board of Trustees. She has an MBA from Harvard Business School and has spoken frequently on campus. Currently Morgan is on the board of CT Partners, a publicly-traded executive search firm and she is the chairman of the Poynter Institute's National Advisory Board. She is an advisor to several New York City technology start-ups including LearnVest and Zemanta. She has been listed on Business Insider's annual "Silicon Alley 100" six times, as well as named as one of 27 Business Insider's "Game Changers" of 2011. In 2012, she was named one of "20 Women to Watch" by Columbia's Journalism Review.