http://www.quantummedia.com/our-team/advisor/ruth-jarmul | Printed on: February 23, 2018
Our Team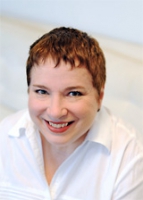 Ruth Jarmul
.(JavaScript must be enabled to view this email address)
Ruth is Vice President of Administration of the New York Stem Cell Foundation, whose mission is to accelerate stem cell research to cure the major diseases of our time.
Before joining NYSCF in April 2010, she spent the previous ten years as a principal of Quantum Media. As a Quantum principal, Ruth served media and related businesses ranging from start-ups to mid-sized and Fortune 500 companies as well as major not-for-profits.
She has extensive experience in operational improvement, strategic planning, marketing and communications.
Before joining Quantum Media, she served as a senior engagement manager of the Mitchell Madison Group, a 700-consultant firm founded by partners of McKinsey and Company. As a Mitchell Madison consultant, Ruth played a major role in building the firm's media practice into a multi-million dollar business.
Previously, Ruth worked on the launch of the Newspaper National Network, which generated a 600% rate of return its first year, and Smart Money magazine, Ad Age's Magazine of the Year. At The Wall Street Journal, she successfully launched and built its media advertising business. She also served as Dow Jones Director of Planning and was involved in many corporate media-related acquisitions.
Ruth received a B.A.(cum laude) from Yale University and an M.B.A. from Harvard Business School.