http://www.quantummedia.com/our-team/advisor/soo-koon-lee | Printed on: February 23, 2018
Our Team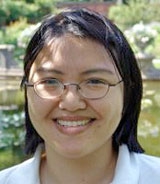 Soo Koon Lee
.(JavaScript must be enabled to view this email address)
Soo is the General Manager at Greenwave Foods, Inc., a company based in Berkeley, CA that makes the Cruncha Ma-Me brand of freeze-dried edamame snacks. She is applying knowledge gained as an analyst and strategist to manage the company's production, operations, and marketing. Since joining the company in summer 2012, she implemented a new inventory management system, managed the transition of production to Arkansas, and developed processes and routines for the packaging of products.
From 2009 to 2012, Soo was a digital media consultant, developing and executing social media strategies to help companies identify new customer segments, raise online awareness, and establish stronger connections with current customers. Client projects included identifying and developing a new customer base for a French brasserie, constructing a strategy for the re-launch of a major online food property, building and executing an online strategy to raise awareness of the mission of the New Amsterdam Market and its events, and leveraging social media tools to educate seafood consumers. Soo's research and analysis experience combined with her passion for discovering and using online innovations made her uniquely suited to creating solutions that help her clients achieve their goals via online and location-based social media.
Prior to receiving her MBA, Soo was a fixed income analyst for ten years covering a range of industries including retailers, restaurants, consumer products, airlines, all of which have been affected by changes in online technology and social media. She graduated with honors from Barnard College, Columbia University with a B.A. in East Asian Languages and Cultures and has an MBA from Columbia Business School.