http://www.quantummedia.com/our-team/advisor/chris-fodor | Printed on: February 23, 2018
Our Team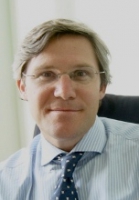 Chris Fodor
.(JavaScript must be enabled to view this email address)
Chris is an agent of globalization in print publishing worldwide. He contributes almost 30 years of professional experience in magazine, newspaper and book publishing. He has worked on publishing projects in 25 countries on 4 continents and has been based in Hamburg, Paris, New York, Milan and Beijing. His strengths are in marketing and new business development, with an ability to cross cultural divides in order to spot market opportunities and lead successful projects around the world.
Since 2009, Chris and his partners have founded Mediaside (www.mediaside.biz), a company that provides advertising and editorial services to third parties. Mediaside currently handles three titles for the OECD (Organization for Economic Cooperation and Development), with further ones in the planning stages.
From 2006 to 2009, Chris first tested his entrepreneurial mettle, with the launch of GO magazine, a monthly management magazine targeted at young managers and business school students. Launched in the UAE in October 2006 and then in India in October 2007, the monthly fell victim to the advertising recession and muted into Casium, a fortnightly management newsletter reaching almost 10,000 business school professors worldwide. See www.casium.fr .
As one of Quantum Media's antennae in Europe, Chris also maintains limited activities as an independent consultant. His consulting work follows two principal axes. On one hand, projects for certain clients (New York Times, RCS Rizzoli Group) involve international licensing and development, namely in Asia, the Middle East and Central Europe. On the other hand, other projects deal with circulation and marketing development. Clients here include Wine Spectator, Aperture, the OECD, Cartier Art, Spiegel Verlag, Deutsche Post, Fortune/Time and others.
In magazine publishing, Chris worked for Gruner + Jahr and RCS Rizzoli, mostly on new business development, but also general management namely for international projects and subsidiaries. Chris also held operational positions in circulation management, in marketing and in strategic planning.
Additionally, Chris was Managing Director of the north Asia subsidiary of RCS Rizzoli, with responsibility for China, Korea and Japan. He oversaw the launch of a popular science monthly, the acquisition of 50% of an upscale Korean women's magazine publisher, and the licensing of various Rizzoli magazines in Japan.
In magazine publishing, Chris had overall responsibility for Rizzoli's international magazine operations (85 titles in 9 countries), including the management of existing activities, new business development and strategic planning, and overall financial responsibility for the international department. For G+J - USA, Chris worked in circulation and strategic planning, namely for the launch of a monthly and for several planned acquisitions. For G+J in Paris, as assistant to the president, Chris was product manager for the launch of the weekly Voici and helped establish the UK subsidiary.
In newspaper publishing (Milan), Chris covered strategic planning and business development for Corriere della Sera and La Gazzetta dello Sport. Within two years, he developed brand extensions with revenues of $10 million and 30% margins.In book publishing, Chris was marketing director for Rizzoli Book Publishing in NYC.
In a prior life, Chris worked as transportation planner and systems analyst on World Bank-funded projects in Senegal, Togo, Nigeria and Algeria.
Chris received his MBA from Stanford University and his BS in civil engineering from MIT. Chris is currently based in Paris, France. He speaks four languages fluently.