http://www.quantummedia.com/event/media-guru-tim-armstrong | Printed on: February 23, 2018
Event
Media Guru Tim Armstrong
Chair and CEO, AOL
June 15, 2010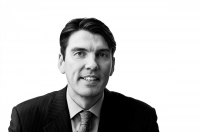 As Chairman and Chief Executive Officer, of AOL, Inc., Tim Armstrong is responsible for setting strategy and overseeing the businesses and day-to-day operations of AOL. Armstrong will discuss the company's restructuring, cultural transformation, and the new content-oriented strategy meant to attract the largest possible audiences along with advertisers and commerce partners.In December 2009, he took the company public with a listing on the New York Stock Exchange (http://www.nyse.com/about/listed/aol.html).
About 100 million people in the United States and 250 million people globally use AOL content and services each month. Beyond AOL.com, the company owns such well-known content sites on the Internet as Mapquest, Moviefone, and Engadget. AOL serves tens of millions of customers across the world with AOL Mail and AIM Instant Messenger. In Advertising, AOL owns the largest ad network by reach in Ad.com and one of the fastest growing advertising serving platforms in ADTECH.
Armstrong joined AOL in April 2009 from Google, where he oversaw the company's North American and Latin American advertising sales, marketing and operations teams as President of The Americas Operations and worked with some of the world's most widely recognized brands and advertising agencies. His tenure at Google covered the scaled launch of Google's advertising efforts and defined many of the operating structures that supported Google's global expansion. Armstrong was a member of Google's Operating Committee, the company's executive team.
Prior to joining Google, Armstrong was Vice President of Sales and Strategic Partnerships for Snowball.com. Before that, he served as Director of Integrated Sales and Marketing at Starwave's and Disney's ABC/ESPN Internet Ventures, working across the companies' Internet, TV, radio and print properties. At the start of his career, Armstrong co-founded and ran a newspaper based in Boston, Mass. and later joined IDG, where he launched its first consumer Internet magazine, I-Way.
Armstrong is on the boards of the Interactive Advertising Bureau (IAB), the Advertising Council and the Advertising Research Foundation, and is a trustee at Connecticut College and Lawrence Academy.
He is a graduate of Connecticut College, with a double major in economics and sociology.