http://www.quantummedia.com/event/media-guru-steven-waldman | Printed on: February 23, 2018
Event
Media Guru Steven Waldman
FCC's Visionary Entrepreneur Explores "Future of Media"
January 31, 2011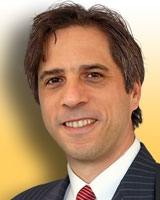 FCC's visionary entrepreneur conducted an extensive look at media across all platforms—regulated and not regulated by the FCC. Waldman will discuss the report which will be published just after this appearance.
Steven Waldman is Senior Advisor to the Chairman of the FCC, in charge of looking into "Future of Media." He is leading an agency-wide effort to assess the state of media and is will be releasing a widely anticipated report that will likely include recommendations designed to ensure a vibrant media landscape for the U.S.
A recent article in the Columbia Journalism Review calls Waldman a "wonk" admiringly. The author writes, "The FCC oversees a large section of the historical media policy regime and can make constructive recommendations about the rest of that regime. [Waldman has] an opportunity to look carefully, with a wonk's Coke-bottle glasses, at the laws and regulations we already have, to see how they are working and how they might be improved." (http://www.cjr.org/cover_story/reboot.php)
Waldman, will discuss how he worked with dozens of staffers, conducted hundreds of interviews and reviewed thousands of documents in working out how the media will evolve and the government's role in the evolution.
Waldman was the co-founder, CEO and Editor-in-Chief of Beliefnet.com, the leading spirituality website, founded in 1999. Beliefnet won the top editorial awards on the Internet, including the General Excellence Award from the Online News Association and the National Magazine Award for General Excellence Online. Before coming to the FCC, the company was sold to NewsCorp.
Before creating Beliefnet, Waldman served as National Editor of US News & World Report and was National Correspondent for Newsweek. He is author of the New York Times bestseller Founding Faith: Providence, Politics, and the Birth of Religious Freedom in America. He also served as Senior Advisor to the CEO of the Corporation for National Service in the 1990s.
Waldman's work has appeared in numerous publications including The Wall Street Journal, The Washington Post, National Review Online, Huffington Post, The Atlantic, ChristianityToday.com, The Washington Monthly and Slate. He has been a regular commentator on national television and radio programs including Fox & Friends, Fox Business, Good Morning America, The Today Show, CNN, ABC World News, NPR's All Things Considered and On the Media, and many others. He was named a "Spiritual Innovator" by Time magazine.