http://www.quantummedia.com/event/media-guru-steve-hasker | Printed on: February 23, 2018
Event
Media Guru: Steve Hasker
Nielsen's President, Global Product Leadership
December 5, 2013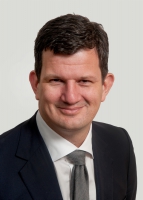 Steve Hasker is President, Global Product Leadership of Nielsen (NYSE: NLSN). He was appointed to this role in early 2013 and is responsible for Nielsen's product portfolio across "Watch" and "Buy."
Nielsen is one of the world's leading global information and measurement companies, with revenues in 2012 of $5.6 billion and with a 24% EBITDA margin. As Nielsen writes about in great length in their most recent 10K, they are all about providing their clients with a "comprehensive understanding of consumers and consumer behavior" by being the vendor of choice to provide "critical media and marketing information, analytics and industry expertise about what consumers buy and what consumers watch on a global and local basis."
Among the areas that Hasker and Nielsen are clearly deeply involved with is "big data." In a video interview for a McKinsey CMO forum, Hasker talks about how big data can help companies distinguish themselves from competitors. With a deep understanding of the data comes "a very significant advantage in terms of product development decisions they make, the marketing decisions they make and the customer service decisions they make." Those that don't make the investment in getting the best people and resources behind big data, he says, "are at a disadvantage as they are not going to understand their consumer base as well or react as fast" as those that make that investment. To see the entire interview, please go here.
Prior to his current role, Hasker served as President, Global Media Products and Advertiser Solutions, where he led Nielsen's TV and digital audience measurement, advertising effectiveness and social media solutions.
Steve Hasker joined Nielsen in 2009 from McKinsey & Company, where he was a partner in McKinsey's Global Media, Entertainment and Information practice. In this role, Steve was responsible for serving clients on issues of strategy, growth and innovation in television, syndicated information, filmed entertainment, sports, and digital advertising.