http://www.quantummedia.com/event/media-guru-roger-keating-chief-strategy-and-business-development-officer-he | Printed on: February 23, 2018
Event
Media Guru: Roger Keating, Chief Strategy and Business Development Officer Hearst Television
Chief Strategy and Business Development Officer Hearst Television
February 24, 2017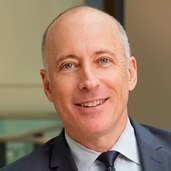 Roger Keating leads the strategy effort at Hearst TV, which involves articulating the forward plan built in conjunction with the other members of the senior leadership team.
Among other duties, Keating evaluates strategic acquisition and investment opportunities and provides executive oversight to Hearst TV's digital news publishing business.
According to the company, Hearst Television "Hearst Television's 30 local television stations and two local radio stations serve 26 television markets across 39 states, reaching approximately 21 million U.S. television households. The company broadcasts more than 60 video channels, featuring local and national news, weather, information, sports and entertainment programming, and local community service-oriented programs."
As the May Media Guru, Keating will address questions about how broadcasters and news producers can improve their processes, take advantage of what the newest technology has to offer in order to make more revenue.
In a recent interview, Keating talked about the challenges of the news industry in attracting and keeping younger consumers through the right social – or other—platforms. "We need to figure out how to feed the video news appetite of the millennial generation. Our current formats and production values aren't resonating with as many millennials as the generations that came before them, and as such we have to either change the style of the content we create, or augment the 'made for our traditional audience' material with 'mobile/social first' programs."
Keating's strategic and biz dev responsibilities have lately covered many areas, working:
• With the leading digital/social platforms in building improved monetization for news publishers
• With other broadcasters, working on how a new transmission standard might unlock new revenue streams
• With the digital ad tech community considering how to bring large datasets and machine-assisted efficiencies into the linear TV buying process.
Media Guru events have no Power Point presentations. The program is a question and answer session where the moderator asks 30 minutes of questions, and the audience the other 30 minutes. Since the session is off the record, we expect you will hear information at the session and nowhere else.
More information about Keating and the link to sign up on the hbscny.org web site is here.