http://www.quantummedia.com/event/media-guru-evening-event-tina-sharkey | Printed on: February 23, 2018
Event
Media Guru Evening Event: Tina Sharkey
Chair and Global President, BabyCenter
March 28, 2011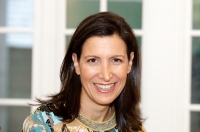 Tina Sharkey is the Chairman and Global President of BabyCenter, a division of Johnson & Johnson ("JnJ") and the world's leading website for parenting information. Her stated mission: to make BabyCenter the world's parenting partner. Achieving this goal will require Sharkey to determine how to operate in an increasingly global footprint, in which consumer Internet and media habits vary widely from region to region, and to manage a website with a Web 1.0 heritage that is rapidly becoming a brand noted for its community and utilities.
Sharkey runs a premier media brand, which ironically is owned by one of the world's leading package goods company. JnJ, the $62B global leader in consumer products, medical devices and pharmaceuticals. Despite its JnJ relationship, Sharkey shut down BabyCenter's ecommerce business and turned the site into a fully advertising-supported media property. In her leadership role, Tina also advocates for women's maternal issues on a global basis. She has lobbied Congress for support on mobile health initiatives that will empower women to activate engagement in their own health.
Prior to joining BabyCenter, Sharkey worked at America Online, Inc., where she led AOL's social networking initiatives, including AIM. Before AOL, she served as Group President of Sesame Workshop's Online Services and co-founder and chief community architect of iVillage. Tina also collaborated with Barry Diller on a new home shopping channel, Q2, a division of QVC, helped launch the Adobe Acrobat and New York 1 brands, and managed corporate brand strategies for Time Warner, QVC and Sony.