http://www.quantummedia.com/event/media-guru-debra-lee | Printed on: February 23, 2018
Event
Media Guru Debra Lee
Chair and CEO, BET
September 22, 2010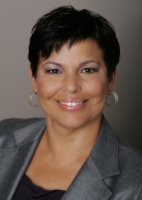 Debra Lee is the Chairman and Chief Executive Officer of BET Networks, a unit of Viacom Inc. and the nation's leading provider of quality entertainment for the African-American audience and consumers of Black culture.
Lee oversees a multiplatform media organization that includes several cable television networks, digital offerings, and a home entertainment business. She also oversees the company's current growth initiatives, including international distribution of the brand in the United Kingdom and Africa. Lee has led BET's successful original programming strategy that has created hits such as "Keyshia Cole: The Way It Is," "Sunday Best," "Brothers to Brutha" and many more. Lee is credited with "reinvigorated" content that she typifies as "built on supporting families, embracing and encouraging their dreams, focusing on the issues that are important to them and presenting the freshest talent and entertainment."
Prior to her being named CEO, Ms. Lee was President and Chief Operating Officer of BET Networks for almost 10 years. She first joined BET as Vice President and General Counsel in 1986 after serving more than five years as an attorney with Washington, D.C.-based Steptoe & Johnson, a corporate law firm. Prior to that, she served as a law clerk to the late Honorable Barrington Parker of the United States District Court for the District of Columbia.
Her achievements in a 20-plus year career at BET Networks have earned her numerous accolades from across the cable industry and in the broader business community. She serves on the corporate board of directors of Revlon, Marriott, Eastman Kodak, and Washington Gas & Light.
Affiliated with a number of professional, civic, and cultural organizations, Ms. Lee is also a member of the national board of directors for the National Cable & Telecommunications Association (NCTA), Alvin Ailey Dance Theater, Girls Inc., National Symphony Orchestra, Center for Communication, and the Kennedy Center's Community & Friends Board. She is also a member of the Board of Trustees for Brown University and also serves on the boards of the Paley Center for Media, the Ad Council, the Grammy Foundation, and was recently appointed to the Federal Communications Commission's Advisory Committee on Diversity for Communications in the Digital Age.
Ms. Lee earned her juris doctorate at Harvard Law School, while simultaneously earning a master's degree in public policy from the John F. Kennedy School of Government. She graduated from Brown University with a bachelor's degree in political science with an emphasis in Asian politics.