http://www.quantummedia.com/event/media-guru-david-levin-president-ceo-mcgraw-hill-education | Printed on: February 23, 2018
Event
Media Guru: David Levin, President & CEO, McGraw-Hill Education
March 3, 2015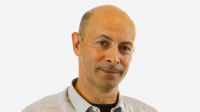 David Levin – the new CEO for a new corporate structure for McGraw-Hill Education – is the February Media Guru. He has been with MHE since April 2014; and MHE has been privately held only since November 2012. Levin will talk about the transformation of education from physical materials to digital ones, and how his company will successfully participate in that industry.
In a recent interview on CNBC, Levin talked about the drive towards digital products in education, and that for the first time MHE "sells more in digital revenues than the old traditional print books." He said that the transition is much quicker in higher education than in K-12. The company reported at the end of the third quarter, "continued strong growth across many of its key digital platforms year-to-date through September 30th."
Before coming to MHE, Levin served as the chief executive of UBM, a multinational media company headquartered in London. Over his nearly nine years leading UBM, Mr. Levin reoriented the company's business mix toward emerging markets while growing its U.S. revenues. He also shifted UBM's business models away from print and toward live events and online communities and renewed the company's culture, fostering an open, collaborative, and social environment. Under his leadership, UBM realigned its portfolio through more than 100 acquisitions.