http://www.quantummedia.com/event/media-guru-breakfast-strauss-zelnick | Printed on: February 23, 2018
Event
Media Guru Breakfast: Strauss Zelnick
Board Chairman of Three Media Companies
September 17, 2009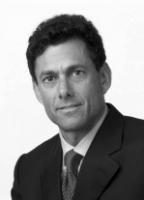 Strauss Zelnick, a leading expert in the media industry, has managed many types of entertainment companies including music, entertainment software, film and television. At ZelnickMedia (http://www.zelnickmedia.com/), he and his partners have capitalized on their broad operating experience to build a dynamic and diverse media enterprise. ZelnickMedia manages and holds interests in an array of media businesses in the United States, Canada, Europe, Asia and Australia that are "best positioned to take advantage of the ongoing digitization and fragmentation of media." Investments and advisory relationships include Arkadium, Columbia Music Entertainment (CME), ITN Networks, Naylor Publications, Online Testing Exchange, Savoy Label Group, Skymall and Take-Two Interactive Software. Zelnick currently serves as Chairman of the Board of Directors of Take-Two Interactive Software, ITN Networks and CME. He serves on the Boards of Naylor Publications and Blockbuster, Inc. (See an interview with Zelnick about Take-Two from CNBC, May 2009).
Prior to forming ZelnickMedia in 2001, Zelnick was President and Chief Executive Officer of BMG Entertainment, a $4.7 billion music and entertainment company with more than 200 record labels and operations in 54 countries. He served as President and Chief Executive Officer of the company's North American business unit from 1994 through 1998.
Before BMG Entertainment, Zelnick was President and Chief Executive Officer of Crystal Dynamics, a leading producer and distributor of interactive entertainment software. Prior to that, he spent four years as President and Chief Operating Officer of 20th Century Fox, where he managed all aspects of Fox Inc.'s worldwide motion picture production and distribution business. Previously, he spent three years at Vestron Inc., two as the company's President and Chief Operating Officer. Zelnick also served as Vice President, International Television, at Columbia Pictures.
Strauss Zelnick holds a BA from Wesleyan University and an MBA and JD from Harvard University. He also has the distinction of being the only Media Guru who has been a cover model of Men's Fitness magazine. He was on newsstands on the November 2008 issue.