http://www.quantummedia.com/event/media-guru-breakfast-larry-burstein-and-michael-silberman | Printed on: February 23, 2018
Event
Media Guru Breakfast: Larry Burstein and Michael Silberman
Publisher and G.M. of New York Magazine
November 12, 2008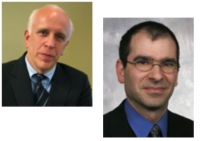 Larry Burstein was always a magazine guy. Michael Silberman has been in new media since 1995, and before that in TV. Yet, as leaders of the New York team, they've transformed a venerable magazine brand into a cross media brand with a rapidly expanding and award-winning Website, nymag.com, an events division, and the twice-yearly publications New York Look and New York Weddings.
As the November Media Gurus, Burstein and Silberman will explain how the company made the transformation. Among the topics they will cover are: why they think that the print version of the New York will survive competing against nymag.org —and all the other websites covering their territory, how being part of a multi-platform company affects their day to day operations in selling advertising and creating content and what's next for cross platform media brands.
Larry Burstein
Larry Burstein joined New York as publisher in July 2003 – a return to the title from earlier in his career. Since then, the company has become New York Media, has gained several National Magazine Awards and has generally raised its editorial profile, its prestige bona fides and its advertising success. The magazine finished 2007 ranked 3rd in the United States among all magazines in ad pages carried, according to the Publishers Information Bureau. Burstein has also overseen the rapid advertising growth on nymag.com.
In 1980 Burstein first joined New York magazine as a sales representative and rose to the position of associate publisher. Larry has also held top executive positions at Self, Elle, The New Yorker, and US Weekly magazines, as well as Ziff-Davis. His publishing innovations have included the first "singing" Absolute spectacular that appeared in New York magazine, to the launch of the first pink-ribbon campaign for breast cancer awareness in Self magazine. Burstein is a graduate of Stuyvesant High School and Hobart College. He has completed the New York City Marathon four times.
Michael Silberman
Michael Silberman joined nymag.com, as General Manager in May 2007. He is responsible for strategic planning for nymag.com on both the business and editorial sides and oversees a growing staff of more than 45.
Silberman came to nymag.com from Rodale, where he was vice president and editorial director for Rodale Interactive and managed a 35-person team responsible for editorial, design, production and product development for the online editions of Rodale's magazines. Prior to Rodale, Silberman worked at MSNBC, most recently as deputy editor, East coast, partners & strategy, managing all MSNBC.com program production with NBC News and MSNBC Cable. He first moved to the digital realm in 1995, as a senior news producer for Microsoft, developing the MSNBC Website and its relationship to the cable channel and NBC News. He previously worked as a television producer for CBS News. Silberman graduated cum laude with a B.A. in government from Harvard College. He is a board member of the Online News Association.