http://www.quantummedia.com/event/media-guru-breakfast-jack-griffin | Printed on: February 23, 2018
Event
Media Guru Breakfast: Jack Griffin
President, Meredith National Media Group
February 16, 2010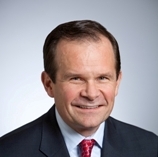 Jack Griffin is President of the National Media Group at Meredith (NYSE: MDP). Based in New York City, Griffin oversees an extensive portfolio of media and marketing properties including some of the country's most successful and best-known brands such as Better Homes and Gardens [http://www.bhg.com/], Parents and Family Circle. [ ]http://www.parents.com/family-circle-magazine/]
Griffin is responsible for Meredith's numerous magazine brands and its branded Internet and digital properties. He also oversees Meredith Integrated Marketing as well as the Company's Brand Licensing business and its book publishing operations. The National Media Group accounts for annual revenues of $1.1 billion.
Griffin re-joined Meredith in June 2003 as President of Magazines and was named Publishing Group President a year later. During a period of great difficulty for traditional media, Meredith's National Media Group has thrived and was recently recognized by Advertising Age as Publishing Company of the Year for 2009. Over the past five years, Meredith National Media Group (formerly the Publishing Group) has set a standard for media companies seeking to organize around audiences and across platforms.
In his first tenure with Meredith, from 1994 to 1999, Griffin oversaw the creation of Meredith Integrated Marketing (MIM), the company's innovative marketing services arm. Since 2005, MIM has nearly tripled in size and expanded from its roots in custom publishing to its current industry-leading position as a sophisticated creator of CRM and loyalty marketing programs in digital, print and other formats. In addition, Griffin has led an aggressive expansion and repositioning of Meredith Interactive. Numbering over 30 web sites, branded sub-networks and blog communities, Meredith Interactive now registers roughly 20MM unique visitors and 200MM page views monthly. At Griffin's direction, Meredith has expanded aggressively in social marketing with launch of community web sites such as Mixing Bowl and applications on Facebook, Twitter and other social platforms.
Over the past five years, the Meredith National Media Group has successfully diversified its revenue base beyond traditional advertising, which now comprises roughly half of total Group revenues. During this period, Meredith Licensing has established numerous high-growth relationships led by the Better Homes and Gardens Home Collection at Wal-Mart stores. This extensive line of branded home products now numbers over 1,500 SKUs in bedding, bath, kitchen and accessories at the nation's largest and most successful retailer. BH&G has also expanded into home furnishings, residential real estate and other consumer product lines during this period. Meredith Licensing has become a substantial contributor to revenue and profit.
From 1999 to 2003, Griffin was with Parade, a division of Advance Publications. He joined Parade as Senior Vice President of Sales & Marketing and later became President and Publisher. In 1998-1999, while based in Des Moines, Griffin served as Vice President of Marketing for the Meredith Broadcasting Group, encompassing 15 network-affiliated local television stations. Earlier in his career, from 1989-1994, Griffin spent five years with The New York Times Company Magazine Group in business and sales positions in New York and Chicago.
Griffin earned his BA in philosophy, cum laude, from Boston College and a Master's Degree from the Yale School of Management. He is former chairman of that school's Alumni Association and a former director of the Yale Alumni Fund. He is currently a Director of the Yale Center for Customer Insights.