http://www.quantummedia.com/event/media-guru-breakfast-chris-anderson | Printed on: February 23, 2018
Event
Media Guru Breakfast: Chris Anderson
Author, Thinker, Wired Editor-in-Chief
November 17, 2009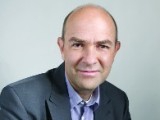 Chris Anderson took the helm of Wired in 2001 and has led the Conde Nast publication with a circulation of more than 700,000 to nine National Magazine Award nominations since, winning the prestigious top prize for general excellence in 2005, 2007 and 2009.
Anderson is the author of the New York Times best-seller "The Long Tail," which is based on an influential 2004 article published in Wired, and runs a blog on the subject at http://www.longtail.com. Anderson's most recent book, FREE, has also hit the New York Times Bestsellers list. He is not afraid to use terrifically simple, amusing and powerful charts, such as this one that illustrates one of the basic ideas in the book.
| | | |
| --- | --- | --- |
| | Scarcity | Abundance |
| Rules | Everything is forbidden unless it is permitted. | Everything is permitted unless it is forbidden. |
| Social model | Paternalism ("We know what's best") | Egalitarianism ("You know what's best") |
| Profit plan | Business model | We'll figure it out |
| Decision process | Top-down | Bottom-up |
| Organizational structure | Command and control | Out of control |
From: http://www.wired.com/techbiz/it/magazine/17-07/mf_freer
Anderson was named in April 2007 to the "Time 100," the news magazine's list of the 100 men and women whose power, talent or moral example is transforming the world. He previously was at The Economist, where he served as U.S. business editor, Asia business editor and technology editor. Anderson's media career began at the two premier science journals, Nature and Science, where he served in several editorial capacities. Anderson holds a Bachelor of Science degree in Physics from George Washington University and studied Quantum Mechanics and Science Journalism at the University of California at Berkeley.